The MP Momentum™ Deep: 2 Bodies of Water, 2 Different Temperatures
Get in and say hello to a whole new level of physical and mental fitness. This is where the sweet spot of a swim spa meets the power of a hydrothermal therapy hot tub. Where the benefits of both are joined to satisfy self-discipline and self-indulgence alike. This is the MP Momentum™™ Deep by Master Spas — the best home swim spa experience of your life.
As the largest and deepest domestic swim spa available, the MP Momentum™ Deep by Master Spas features the full power Wave Propulsion™ Technology System for a deeper, wider, smoother water current that is adjustable for individual resistance levels. On the other side, a full-size hydrotherapy hot tub with 36 jets and ergonomic seating designed to give your mind, body, and spirit a thorough rejuvenation. Enjoy a swim with water set to a personal comfort zone in the 80's, then settle into the hot tub side with the hydrothermal therapy set up to 104°.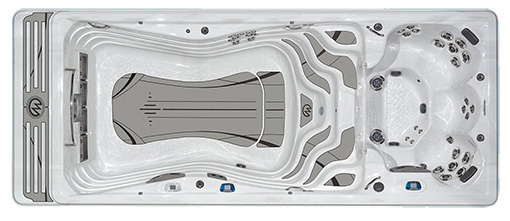 Dimensions

231" x 94" x 60"


(587 cm x 239 cm x 152 cm)
Water Depth

4' 6"

(137.16 cm)
Water Capacity

2,325 Gallons

(8,801 L)
Propulsion System

Wave Propulsion™ Technology

Stainless Steel Jets

45 and 2 Master Blasters®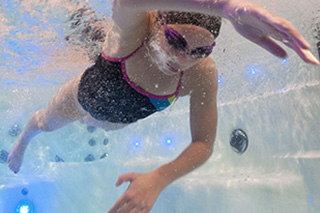 Swimming
The unique shell design of the MP line of swim spas gives you a long and wide swim area with no hidden obstacles like benches or steps to hit your feet.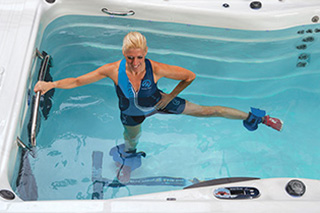 Fitness
Thanks to the MP line, you can enjoy full-body effects of aquatic exercise with time saving convenience in the privacy of your own home.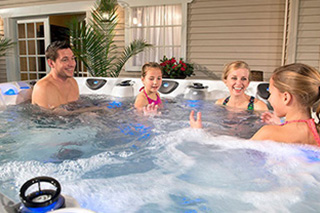 Family Fun
Experience the ultimate backyard fun center. Optional LED lights and high end stereo with underwater transducers create the perect backyard oasis.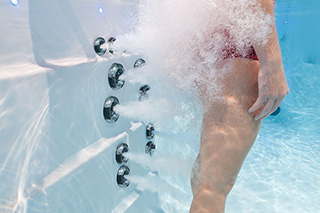 Therapy
Our exclusive Xtreme Therapy™ Seat is ergonomically designed to wrap you in comfort while delivering the ultimate in hydrotherapy with a unique X pattern of jets.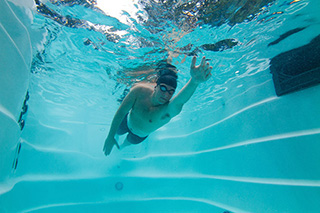 Wave Technology
The Wave Propulsion® Technology propulsion system offers a deeper, wider, smoother current and it's fully adjustable.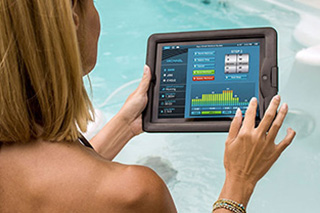 SwimNumber App
SNAPP will help you design and control a custom Smart Workout that meets your specific needs and reaches your fitness goals.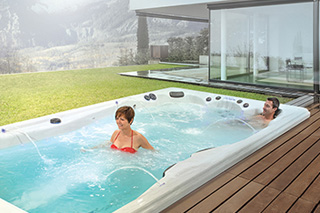 Master Crafted
The MP line of swim spas is designed with high-tech advancements in insulation, filtration and heating systems.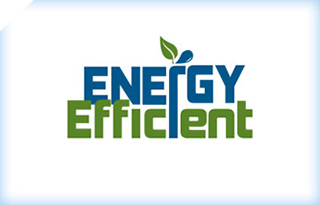 Energy Efficient
We build our swim spas to be used year-round in every possible climate.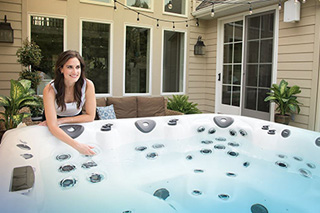 Easy to Maintain
Our swim spas have many features making it easy to maintain… leaving more time for enjoying it.
Wave Technology Propulsion System
The most energy efficient swim spa you can buy (requires only 80 amp electrical service)
Spa and swim sides separated with custom styled lighted clear acrylic wall
2 MasterBlaster™ Foot Massage Jets
Deluxe Waterline LED Lighting
Rowing and Exercise Equipment
EcoPur® Charge Filtration
4 laminar flow water features
Dual Temperature Settings for swimming area and relaxation sides
Mast3pur™ Water Management System
Deluxe Quad-Fold Tapered Cover available in Slate Brown or Charcoal
Wave Technology XP Upgrade
36" 4-Tier DuraMaster Polymer Step (Available in Portabello, or Espresso)
SoftTread™ Nonslip, Comfort Floor System by SwimDek®
| | |
| --- | --- |
| Dimensions | 231″x 94″x 60″ (587 cm x 239 cm x 152 cm) |
| Water Depth | 4′ 6″ (137.16 cm) |
| Water Capacity | 2,325 Gallons (8,801 L) |
| Weight Dry/Full | 3,700 lbs. (1,678 kg) / 24,205 lbs (10,979 kg) |
| Propulsion System | Wave Propulsion® Technology |
| Power Requirement | 80 Amp System |
| Pumps | 3 |
| Stainless Steel Jets | 45 and 2 Master Blasters® |
| Water Features | 5 |
| Ozone System | Standard |
| Filtration | EcoPur® Charge |
| LED Lights | Waterline |
| Premium Features | Wi-Fi Module, Noise Reduction System |
| Accessories | SwimNumber App H2Xercise System (Free with warranty registration) |
Paradise Spas and Outdoor Living is located in Austin Texas, and offers many products and services to help individuals build their dream backyard. Our hot tub, pool, and spa retail store is location in Texas and offers: hot tubs, swim spas, patio furniture, BBQ islands, hottubs, saunas, new hot tub installation, hottub construction, hot tub contractors, patio furniture contractors, and retail store, Michael Phelps Swim Spas, twilight hot tubs, clarity spas, healthy living hot tubs, H2X swim spas, Michael Phelps Legend Series hot tubs, and more!