This fitness jetted spa is loaded with high-end features but at a surprisingly affordable price. The large flat floor is perfect for aquatic exercise and rehabilitation, while three high-performance flow stream swim jets provide a current for walking or running in place. At the end of your workout, slip into one of the ergonomic seats, letting the hydrotherapy jets help you to recover and relax.
If you are a recreational swimmer, or someone who needs the buoyancy of water to avoid stress on your body, you can realize the benefits of an H2X Swim Spa. Say goodbye to stress, and hello to relaxation. H2X Xtreme Therapy Seats treat you to a massage that will renew your spirit. With an H2X Swim Spa, you can enjoy full-body benefits of aquatic exercise and therapy, conveniently in your backyard, year-round.
Experience the ultimate backyard fun center! Optional high end stereo and LED lights create the perfect backyard oasis.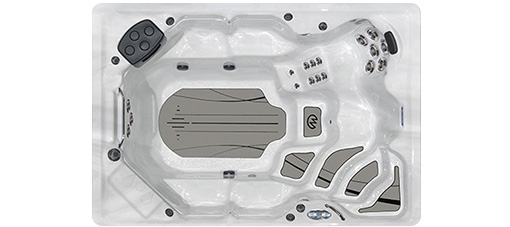 | | |
| --- | --- |
| Dimensions | 132" x 94" x 51" |
| Water Capacity | 925 Gallons |
| Propulsion System | 3 Flow Stream Swim Jets |
| Standard Jets | 21 (incl. 3 Flow Stream Jets) |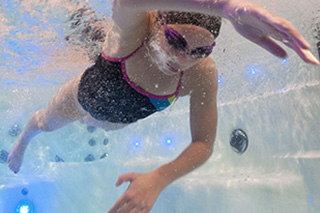 Health Benefits
There's new and very promising research that shows exercising and walking in warm water offers considerable health benefits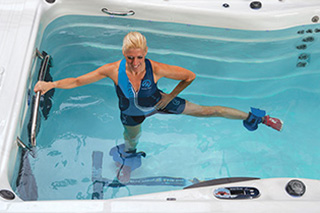 Fitness
Thanks to the H2X line, you can enjoy the full-body effects of aquatic exercise right in your own backyard.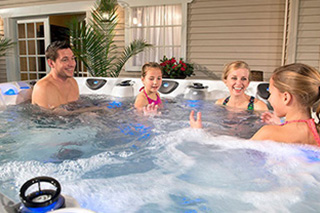 Family Fun
Experience the ultimate backyard fun center. The H2X line is the perfect place for a family get together!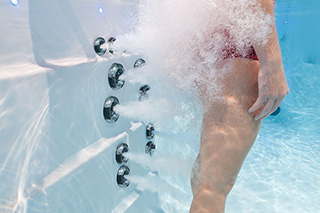 Hydrotherapy
Our exclusive Xtreme Therapy Seat and Xtreme Therapy Cove deliver the ultimate in hydrotherapy.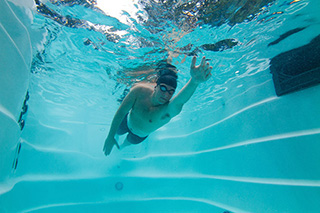 Swimming
The H2X line gives you the energizing benefits of swimming any day of the year.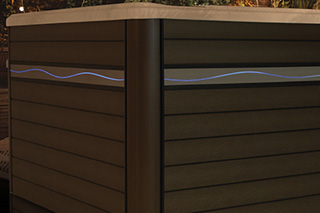 Wave Light Package
A laser light insert for deep H2X Swim Spa models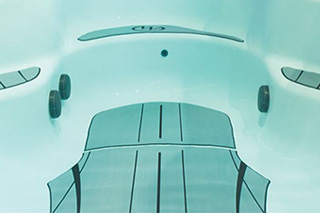 SoftTread™ Floor System
SoftTread™ Swim Spa Floor System by SwimDek® is a premium option that provides ultimate in traction.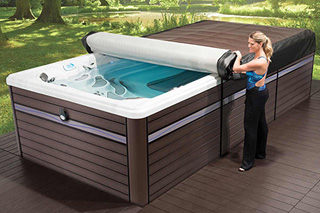 Axis Cover System
Our roll up Axis Cover System is a premium option that makes it easy for anyone to handle their swim spa cover.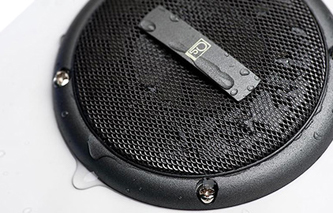 Fusion Air Sound System
The Fusion Air Sound System is optional on all swim spa models.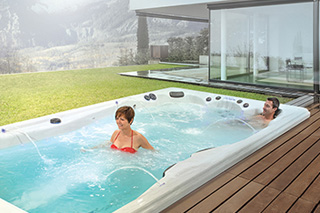 Low Maintenance
High tech polymers make maintenance easy.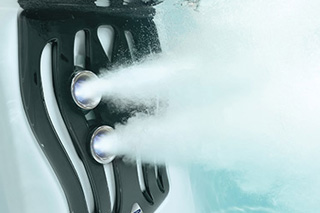 VIP Technology
VIP Technology ushers in an entirely new class of jetted swim spa – the HD swim spa!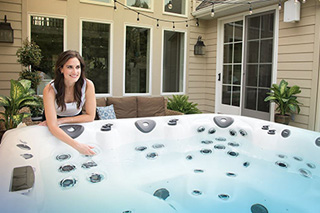 Clean Pure Water
Master Spas' patented EcoPur® Charge Water Filtration System minimizes maintenance while providing crystal clear water.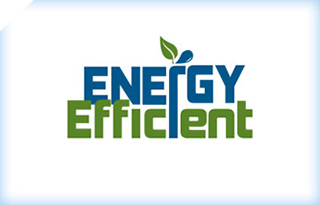 Lock in the Heat
We build our swim spas to be used year-round in every possible climate using environmentally friendly Icynene foam insulation.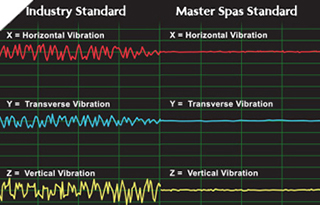 Noise Reduction
A result of advanced engineering innovation that reduces pump and motor vibration by 150% over the industry standard mounting system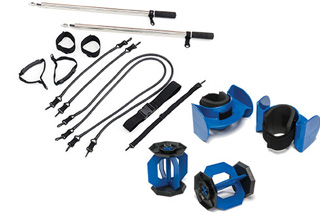 H2Xercise System
The H2Xercise System includes H2Xercise Bells, Fins, Rowing Kit and Resistance Bands and comes standard with all models.
The Fusion Air Sound System
Listen to your favorite music while enjoying your swim spa with the Fusion Air Sound System, an available option for any swim spa model. This system includes four interior, water resistant speakers and a subwoofer to maximize the sound quality
SoftTread™ Nonslip, Comfort Floor System by SwimDek®
This system provides better grip, traction, and comfort on both the steps and the floor of the swim spa, making our swim spas as safe and easy as possible to use, whether getting in, out, or exercising. SoftTread™ is an available option on all models.
Axis Cover System
Now available exclusively for all Master Spas swim spas, the new Axis Cover System makes handling your swim spa cover easy! The innovative design and light weight materials used in the Axis Cover means rolling it up is quick and can be done by almost anyone. And when you're done using your swim spa, it's even easier to cover it back up
Wi-Fi Module
Remotely control the operations of your swim spa via an optional integrated Wi-Fi module that works with the swim spa control app
Mast3rPur™ Water Management System
This water management system is a synergistic blend of three proven natural water sanitizers that when combined makes them dramatically more effective through a chemical reaction known as Advanced Oxidation Process. This results in clean, clear, fresh smelling, and silkier water. The Mast3rPur™ option comes equipped with the QuietFlo Water Care System, a 24-hour circulation pump.
| | |
| --- | --- |
| Dimensions | 132″ x 94″ x 51″ (336cm x 239cm x 130cm) |
| Water Capacity | 925 Gallons (3,502 L) |
| Weight Dry/Full | 1,410 lbs. (640 kg) 10,235 lbs. (4,643 kg) |
| Propulsion System | 3 Flow Stream Swim Jets |
| Power Requirement | 50 Amp System |
| Pumps | 2 |
| Stainless Steel Jets | 21 (Incl. 3 Flow Stream Jets) |
| Waterfalls | 1 |
| Ozone System | Standard |
| Filtration | EcoPur® Charge |
| LED Lighting | Colorscape |
| Exclusive Features | Noise Reduction System |
| Accessories | H2Xercise System (Free with warranty registration) |
Paradise Spas and Outdoor Living is located in Cedar Park Texas, and offers many products and services to help individuals build their dream backyard. Our hot tub, pool, and spa retail store is location in Texas and offers: hot tubs, swim spas, patio furniture, BBQ islands, hottubs, saunas, new hot tub installation, hottub construction, hot tub contractors, patio furniture contractors, and retail store, Michael Phelps Swim Spas, twilight hot tubs, clarity spas, healthy living hot tubs, H2X swim spas, Michael Phelps Legend Series hot tubs, and more!
Service Areas include: , and Beyond.
Hot Tubs | Swim Spas | Patio Furniture | Saunas